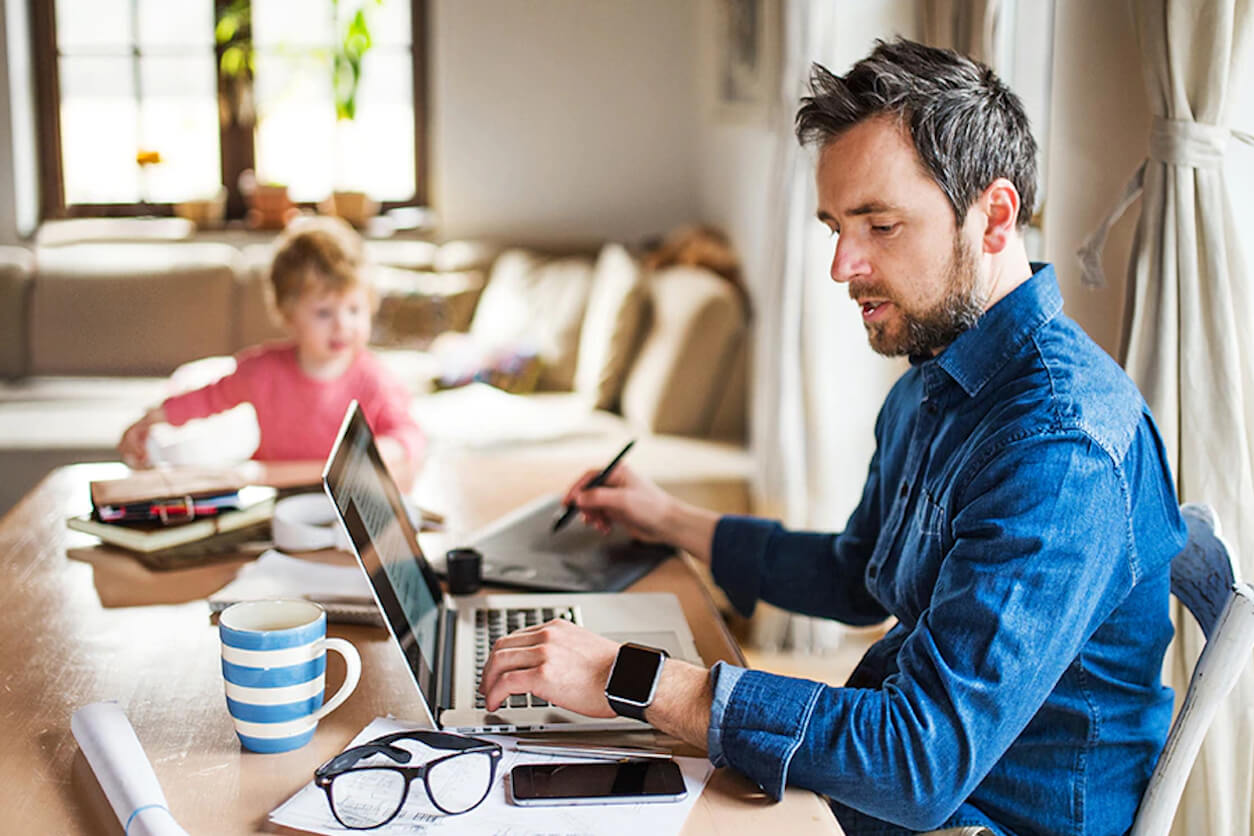 Alongside the turmoil caused by the Covid-19 pandemic came an imposed, but potentially game changing shift in work/ life balance. Those whose roles traditionally demanded an in-person presence in a physical, bricks and mortar office, found themselves adapting to a whole new way of working; from their home offices, gardens, kitchens, sheds, bedrooms or living rooms.
The ease of this transition varied enormously and was largely dependant on a number of factors, most significantly the assistance offered by employers, in terms of technical support, necessary equipment and guidance on new protocols and working practices that inevitably came with this 'brave new world'. For some, working from home in the long term is the panacea – those with reliable internet connection, a quiet, private space to work and the opportunity to find that Holy Grail; a work life balance, have thrived on this new dawn of working practice. Others, living in small, shared accommodation with little or no private space and those with small children at home or other caring responsibilities, have found their 'new normal' very far from normal indeed and have required the emotional resilience to deal with not just the pandemic, but a hugely stressful change to their working environment and home life.
A New Normal – The Homeworking Revolution
In the first waves of the pandemic, many of those in Big Tech made sweeping statements about how they would embrace this new way of working in the long term. Most notably, Twitter's Jack Dorsey statement in May 2020, that "Twitter employees can now work from home forever", made waves across the business world. Speculation was rife that once the pandemic was brought under control, Big tech might become a workforce heavily centred around remote working, with minimal requirements for on site, in person meetings. This message seems to have lost momentum somewhat, as vaccines are rolled out and both infection and death rates continue to display a reassuring downward trajectory.
Is the Homeworking bubble about to burst or just deflate?
It appears that the home working revolution may be losing some of its previous momentum. This spring, Google's Fiona Cicconi communicated to company employees that it was expected that most would be returning, at least in part, to office working from September and those wishing to work from home for more than two weeks would be required to apply to do so. It was also made clear that employees were expected to "live within commuting distance" of their office.
So has the home working bubble burst completely? Probably not, the benefits of home working are numerous, both for employees and employers; a better work/ life balance, reduced commuting and office costs, better scope for employers to choose highly skilled individuals, regardless of location and the increased productivity that comes with happier, less stressed employees are too great to ignore, but humans are inherently social beasts and much research has been directed at how many aspects of working life are much better achieved with face to face interaction.
Paul Cheshire, professor of economic geography at the London School of Economics states that 'People are more productive when they are closer together with face-to-face contact' and this aspect of working life just cannot be replicated across the ether on a video call. He anticipates a more flexible attitude towards home working from both employers and employees and the changes in internal office infrastructure to support this; more hot desking and small areas for homeworkers to use IT facilities, get business support or just escape from their children. Some businesses will be more flexible than others and many will expect a full time return to the office by all staff, others will have embraced homeworking and seen a positive impact on their staff and company productivity.
The potential impact on working parents has particular scope for improvement, especially those caregivers, overwhelmingly women, who historically have found themselves excluded from particular roles due to the 'gender commuting gap', which forces women to work locally to their childcare provision or child's school and significantly reduces their employment options. In this new dawn of post covid working practice, a huge benefit could be an increase in employers looking to employ the pool of highly educated but underutilised women on the basis of their skill, rather than their commutable distance to a physical office.
So, in summary, the Covid-19 pandemic has had a profound impact on attitudes to working from home and this new found flexibility seems set to continue, at least in some form. It seems; however, that employees should not seek to book that WiFi connected sun lounger on the beach anytime soon as the ties to the physical office will take more than just a pandemic to sever.